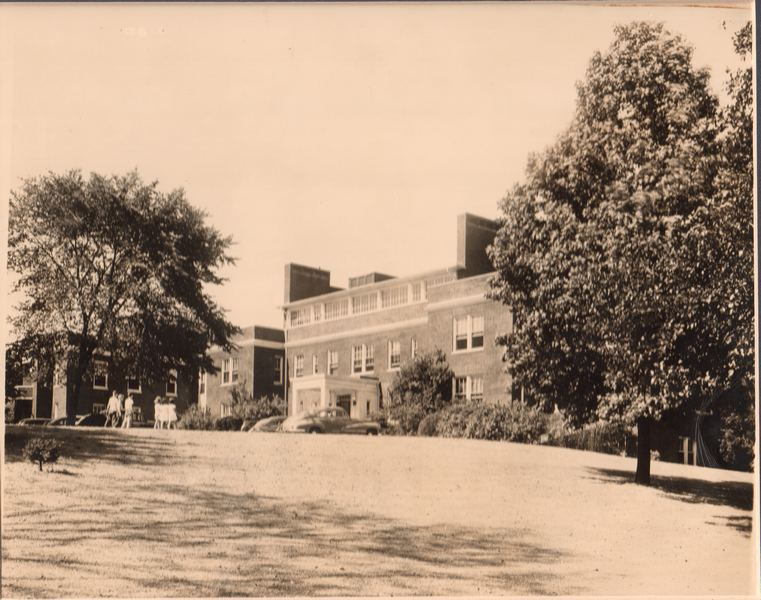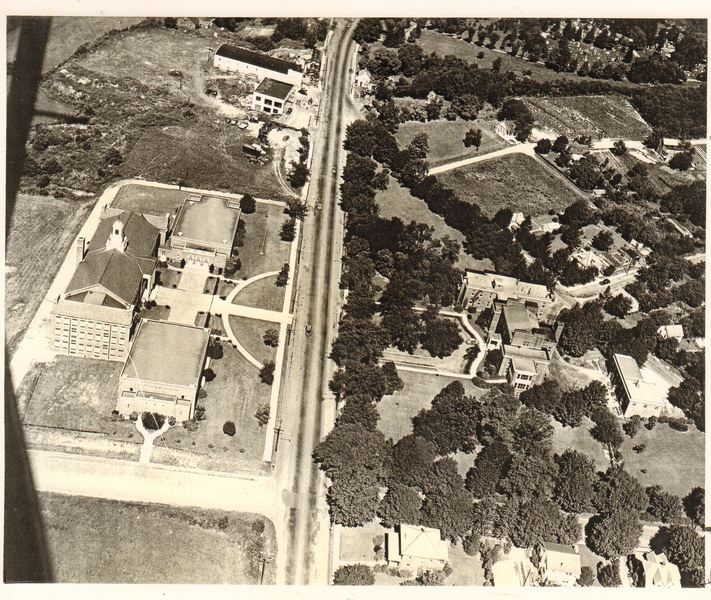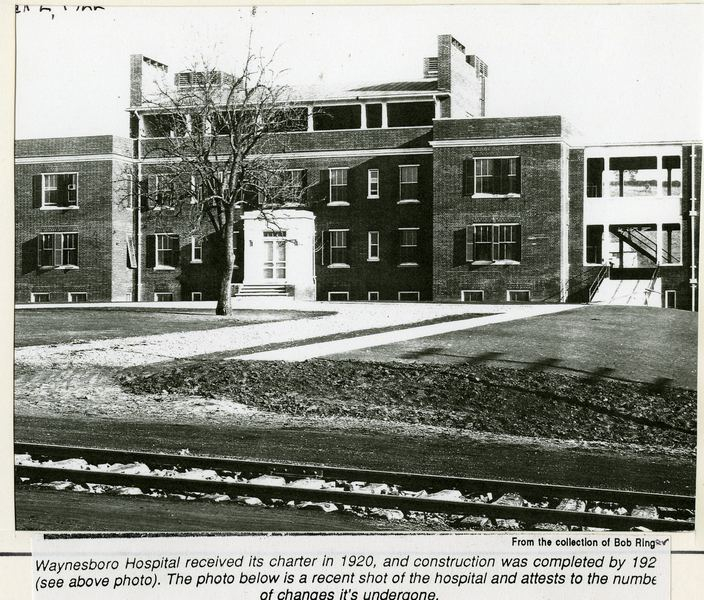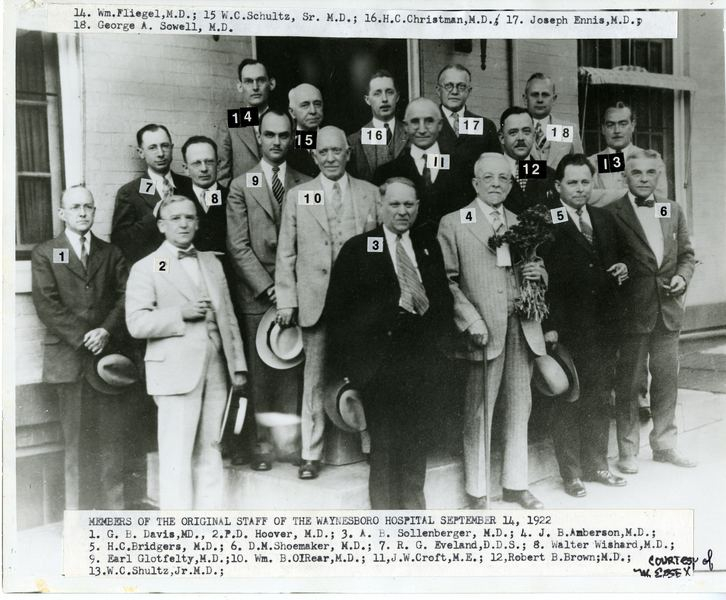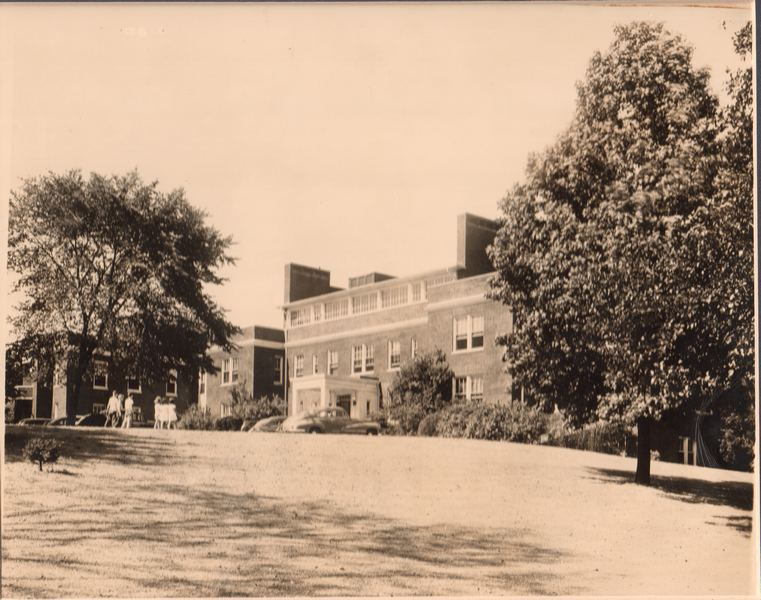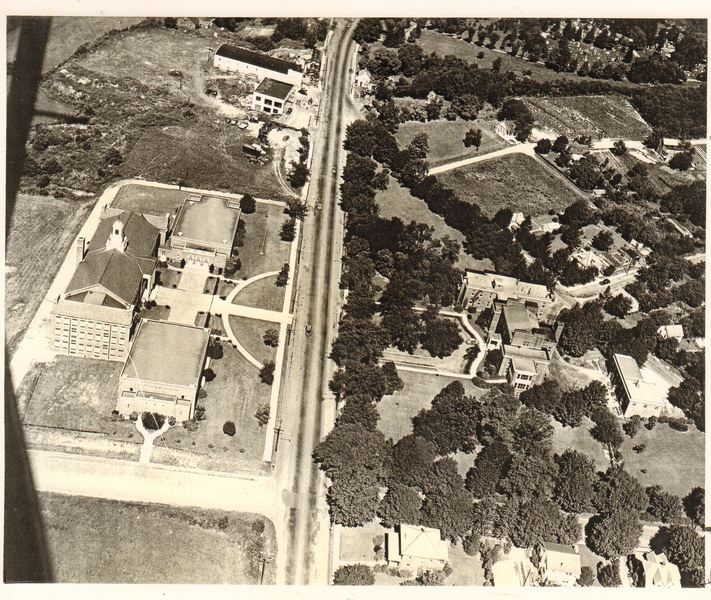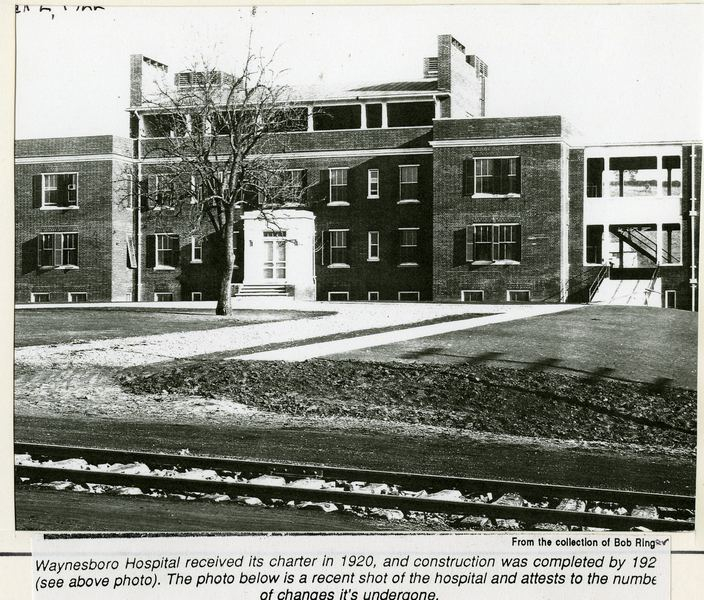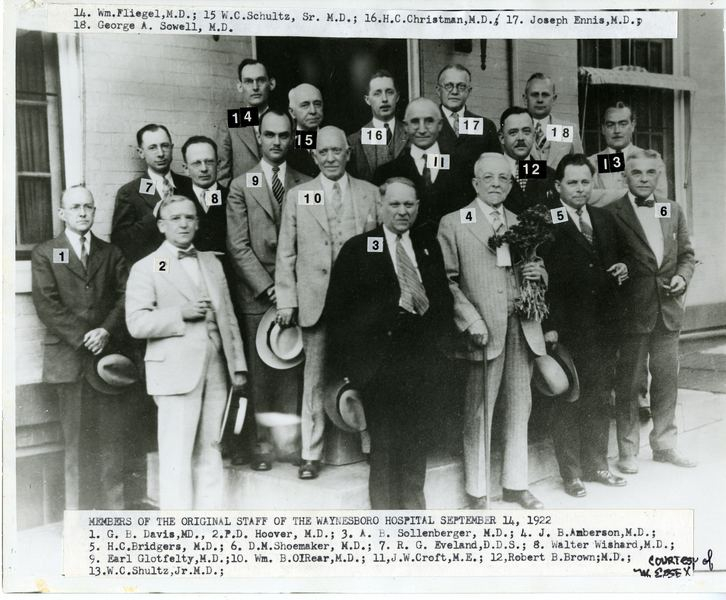 It is difficult to imagine a town of Waynesboro's size in 1920 (population 9,720 urban and almost as much more suburban) without a hospital. But that was the situation until October 2, 1922 when our first hospital building was dedicated. Before that time serious medical and operable cases had to be transported elsewhere, - over such roads and with such equipment as was avail- able at that time.
In February 1919, an intense campaign was launched for a Waynesboro Hospital, spurred by the devastating influenza epidemic of 1918-19.
By 1920 the sum of $327,516 had been raised and plans drawn for a 36-bed hospital which was completed as noted above. However, increasing need made it inadequate.
In March of 1939 the West Wing was added accommodating 31 more beds. The needs continued to grow.
In 1958 the East Wing and larger operating room was proposed, and a 1959 drive raised $909,956. Ground was broken February 10, 1961 for the East Wing which has 33 beds, making a total of 100 beds and room for 20 bassinets. In March 1962, an additional drive for $500,000 went over the top and we have one of the finest institutions for our size community.
It is manned by 135 full time employees and 70-part time employees such as nurse's aids, etc.
The fiscal year begins July 1st of each year. In the year ending June 30, 1968 there were 27,543 patient days of care. The average length of stay was 7.7 days.
There were 3,588 admissions, 1,444 operations and 585 births.
Four thousand two hundred forty-seven emergencies handled, and 2,576 out patient days recorded.
Seventy-four thousand five hundred fifty-six laboratory tests were performed, and 6,380 x-rays taken.
The Waynesboro Hospital Auxiliary has rendered invaluable assistance over a period of 46 years and their membership now numbers nearly 1,300. In addition to the time freely given to many small and some large duties, they purchase from time to time certain equipment for the Hospital. During their last fiscal year items totaling $3,855.52 were bought and paid for, including such items as six-wheel stretchers with slide rails ($2,100.00) and one baby's Isolette ($890.00), etc. The Waynesboro Hospital is a great institution to which many people contribute free of their most precious commodity - TIME - from the Executives of Industry, men practicing various professions, bankers and merchants serving on the Board of Directors or on various committee assignments.
Even with all the two groups mentioned above, nothing could be accomplished without the dedicated support of the surgeons, doctors, nurses, nurse's aides, orderlies, clerks, maintenance men etc., whose interest in helping humanity is "above and beyond" their pay for services rendered.
The institution and our community are entitled to mutual admiration and respect.
Timeline Taken from Waynesboro Hospital Website
1922 – Waynesboro Hospital is established by a group of volunteers in response to the Spanish Influenza.
The illness killed 40 Waynesboro residents and more than 20 million people worldwide. At this time, the hospital had 35 beds.
1939 – A new wing was added to the west end of the building. This brought the hospital's capacity to 78 beds.
1962 – Another expansion increased the hospital's capacity to 105 beds.
1970 – A Coronary Care Unit was opened.
1972 – The Coronary Care Unit was replaced by a 6-bed Intensive Care Unit.
1980 – A major renovation lowered the hospital's capacity to 88 beds. This reflected the trend within the healthcare industry to shift care toward outpatient services.
1995 – Waynesboro Hospital became part of the Summit Health family. Summit Health is also the parent organization to Chambersburg Hospital and most of the area's physician practices.
2008 – Waynesboro Hospital received national recognition when it was named "America's No. 1 Best Place to Work in Healthcare" by Modern Healthcare magazine.
2013 – Waynesboro Hospital is a 56-bed facility offering a comprehensive selection of services. The hospital is staffed by about 175 physicians, 500 staff members, and more than 200 volunteers.
2015 – Opening of our medical office building adjacent to Waynesboro Hospital, which houses several physician practices.
2018 - Waynesboro Hospital currently has 57 beds